Cathedral of Puebla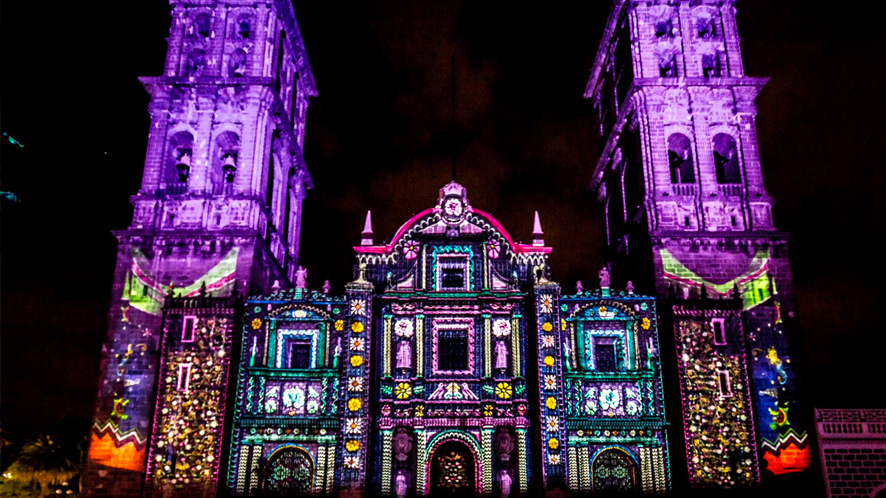 The Cathedral of Puebla is the most representative monument of this city. At the beginning of the city the construction of a cathedral was not contemplated, because the seat of the diocese was in Tlaxcala. It was not until 1535 when the then bishop, Fray Julián Garcés, decided to change the seat to this city, beginning the construction of a first cathedral. Years later, the construction of a more dignified Cathedral in Puebla began, so the project was asked of one of the most important architects of those times, the Spanish architect Francisco Becerra.
In 1640, when Bishop Juan de Palafox y Mendoza arrived in the city, he found that the construction works were stopped, so he decided to give the definitive impulse, so Bishop Palafox consecrated the Cathedral of Puebla with a mass on April 18, 1649, still missing the facades and towers.
The construction of the famous towers of this Cathedral took almost two centuries. The north tower, begun in the early 17th century, was completed in 1678 and the south tower was completed 90 years later in 1768. These towers are the highest of the Latin American cathedrals, with more than 70 meters.
One of the most enigmatic spaces of the Cathedral is located behind the central door, called "the Forgiveness". There are the cenotaph (a funerary monument that does not contain the body of the person to whom it is dedicated) of Juan de Palafox and the tombstone of Bishop Pantaleón Álvarez de Abreu. During his bishopric, Juan de Palafox y Mendoza had his gravestone made, but in 1649 he was called to Spain and years later sent to the Diocese of Burgo de Osma. Juan de Palafox y Mendoza died on October 1, 1659 in Spain. However, it was decided that this tombstone would be located in Puebla due to the important role that Palafox and Mendoza play in the development of this city and its cathedral.
Location: 16 de Septiembre s/n, Centro, 72000 Puebla, Puebla.
Contact: Tel. 01 222 232 3803
The most rewarding events of course is the fall opening
beneficial site
and graduation