Palafoxian Library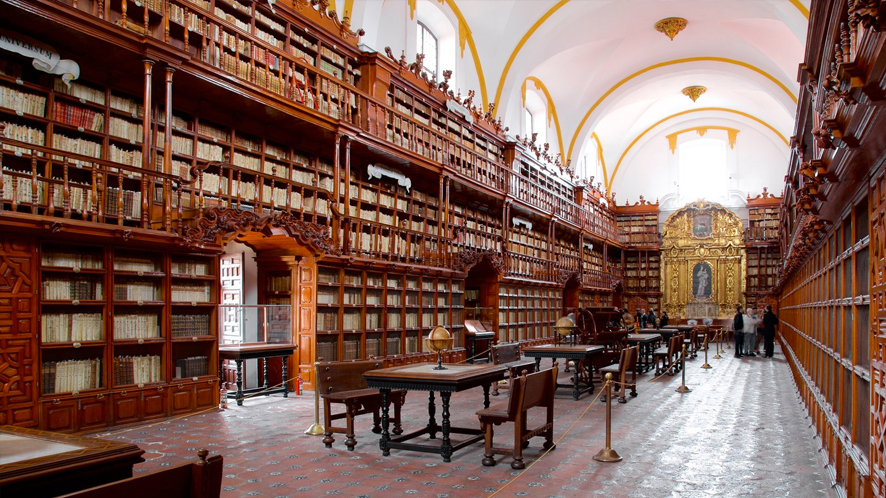 Its history begins on September 5, 1646, when the then bishop, Juan de Palafox y Mendoza, donated his private library of 5,000 volumes to the schools of San Pedro and San Juan, on the condition that anyone who knew how to read be allowed access, and not only church members and seminarians, which is why the Palafoxiana Library is considered the first public library of the American continent.
In the great door of the library, there are the coats of arms of the Marquis of Ariza, in memory of the noble title that Juan de Palafox obtained from his father Don Jaime Palafox and Rebolledo, Marquis of Ariza, and the coat of arms of Palafox as Bishop of La Puebla de los Ángeles. Inside is a wooden wheel called a lectern, which allowed readers to consult several books at the same time without placing them on a table.
At the back of the library, the golden altarpiece frames the painting of the "Virgin of Trapani", under which is read the phrase Maria sedes Sapientia, which is translated as Mary Throne of Wisdom, finished off by a painting of Saint Thomas Aquinas.
In addition to being considered the first public library on the continent, it is recognized as the only one in America that still preserves its furniture, shelving and, above all, its collection of 42,556 volumes and 5,345 manuscripts in its original building, the oldest of which is "The Twelve Books of the History of Herodotus", printed in Venice in 1473.
Schedule: Tuesday to Sunday from 10:00 to 17:00 hrs.
Location: Av. 5 Oriente 5, Centro, 72000 Puebla, Puebla
Contact: Tel. 01 (222) 2323483